2018 iDEAL125 LP release by iDEAL on black vinyl with limited edition splatter vinyl.
Cover photo by John Duncan.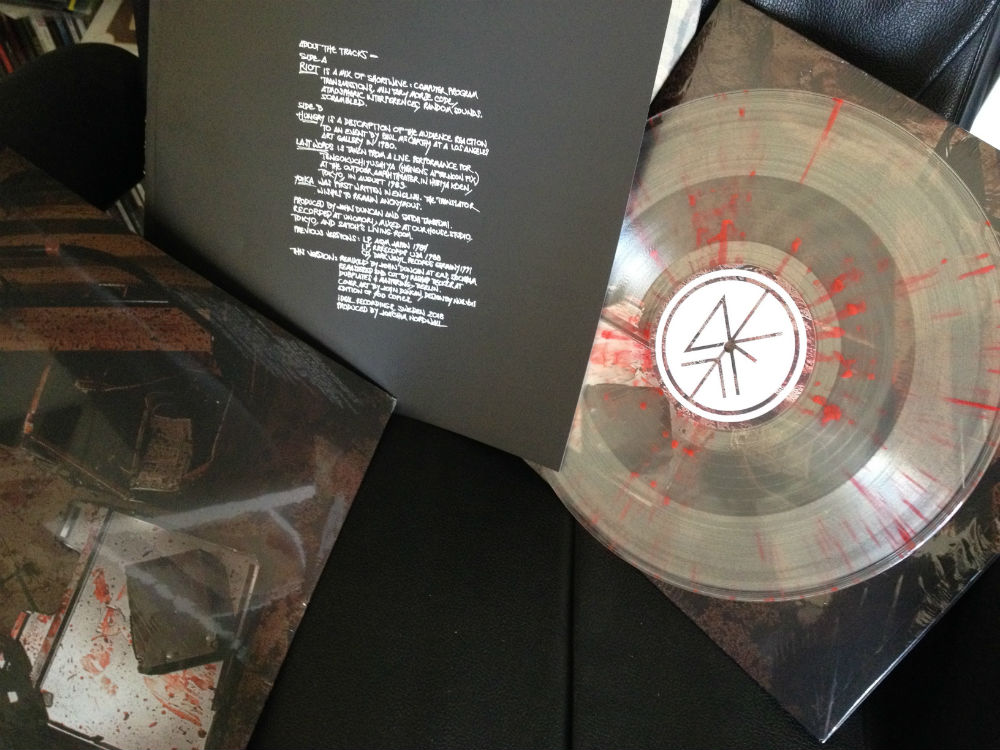 Mercurial maverick of the maelstrom, John Duncan presents a definitive, new, 3rd vinyl edition of his Riot [1984] album: re-recorded, re-mixed at EMS and expanded with material that didn't make the initial pressings, all taken from original 8-track master tape – which required them to revive obsolete machinery – and all re-mastered by Rashad Becker for this release; which, according to the legendary avant-garde agitator himself, is finally packaged in artwork befitting of his vision. Or take it straight from the horse's gob: "If there is any one must-have releases that defines my work in sound, this is it."
So, for anyone who made first contact with John Duncan's catalogue via his sublime, deathly Bitter Earth [iDEAL, 2016] LP songbook, this one may come as a shock. But considering that practically everything else in his catalogue is more akin to this record than Bitter Earth, you may have some catching up to do, and this is a perfect place to start.
Employing the chaos generated by his favoured shortwave radio, coupled with "computer program transmissions, military morse code, atmospheric interferences, random sounds", Duncan makes a genuine, head-flossing racket on the A-side's Riot. Scrambled not stirred, the results still stand gnarled in the historical stream of noise records, strongly representative of a pursuit for total atonality and arrhythmia – pure randomness in a state of flux always anticipating, never resolving.
Contrarily the B-side throws words, both legibly spoken in english and chopped-up in Japanese, into stark negative relief. Firstly a droll description of viciousness at an event by Paul McCarthy at a Los Angeles gallery, then a passage of fulminating noise chaos, followed by an extraction from a performance at the outdoor amphitheater in Hibiya Koen, Tokyo, 1983, and unpredictably shattered into an extreme inky blacknuss.
No messing, this is extreme music of the highest order.
— Boomkat